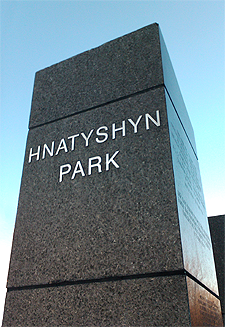 Unique Custom Stonework
Professionally Designed Manufactured and Installed
Khouri Granite specializes in custom stonework for a wide spectrum of residential, commercial and industrial applications.
Extensive experience with all facets of design, manufacturing, finishing and installation of high quality stone has made Khouri Granite Northern Ontario's premiere importer, wholesaler and manufacturer of the world's finest natural stone products.
Aside from countless custom residential projects completed over the years, examples of notable commercial projects include the Ministry of Development and Mines building, the Taxation Data Center as well as the Ray Hnatysyn Monument at the Sudbury Ukrainian Seniors Centre in Sudbury.

Khouri Granite can manufacture and install a wide variety of indoor and outdoor custom stone products including flooring, stairways, fireplaces, walk in showers, retaining walls, patio stones, fountains, outdoor barbeques ovens and service areas, monuments and many other types of decorative and functional stonework.

Please call for a consultation and quote on your next custom stonework project.