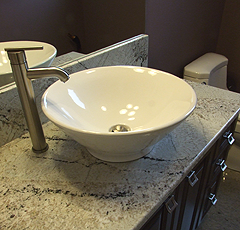 Creating a Unique Statement in Stone: The Process
From Stone Selection to Installation
Khouri Granite is Northern Ontario's leading supplier and importer of natural stone products. We travel the world visiting various quarries to bring our clients new products, colors and textures to achieve that truly one-of-a-kind look.
From the stone selection process right through to installation, our clients have come to rely on our team of design and installation professionals to bring the very best in quality, workmanship and service at the most competitive prices.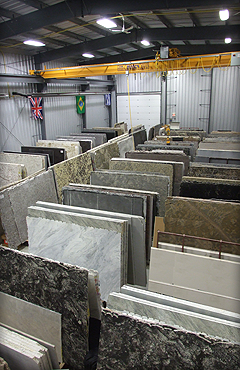 Stone Selection
We stock over 50 different colors of granite alone, and have over a thousand stone slabs in our state -of-the-art stone slab showroom allowing you to personally browse through hundreds of granite, marble and quartz samples.
When you come to the showroom to discuss your project, feel free to bring in samples of decor you want to match with your countertop. Any smaller objects like cabinet doors, tile, wallpaper will assist us in helping you to decide on the selection of materials, colors and textures.
Rough sketches with measurements or finished architectural drawings can help us provide an estimate for your project.
With countless design and material options for your kitchen countertops, vanity tops, fireplaces, bar tops, table tops, and reception desks, our experienced staff will assist you in making the right choices for your project.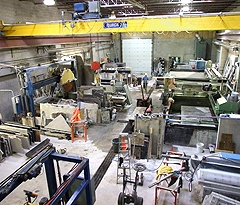 Measuring Cutting and Polishing
Once you have selected your stone slab from our showroom, our staff will schedule a visit to your home to develop a digital layout, template or sketch for your countertop.
The stone slab is then cut to the required dimensions at the shop.
Following this the edges of the countertop are shaped to the desired profile and given a final polish. The countertop is now ready to be installed.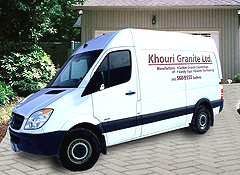 Installation
The completed countertop pieces are the carefully transported to the installation site.
Our experienced staff then install the counter pieces in place, finish seams and complete any required detailing.
After a final inspection your custom designed countertops are ready for use.

Ordering
Typically there is a 10-15 day turnaround on countertop orders pending the availability of certain materials and your delivery requirements. Our staff will inform you of a prospective delivery date for your specific order.